Madoka
Information
Kanji/Kana
円
Rōmaji
Sex
Male
Height
Weight
Age
Status
Deceased
Birthday
Blood Type
Zodiac Sign
Hair
Eyes
Madōgu
Family
Manga Debut
Chapter
Anime Debut
Episode 13
Affiliation
Recca Hanabishi, Hokage
Seiyu
Kouichi Toochika
Actor
Lucas Gilbertson
Madoka (円) is the fifth Flame Dragon with the power to create barriers.
Appearance
Personality
Madoka comes off somewhat stubborn as he did not want to help Recca at first. He is also very confident in his powers declaring himself the "King of the Fire Barrier." When Recca rushed to save Neon from dying he questions why someone would save his enemy, and calls him an idiot. Madoka also appears to be rather laid back, as he includes himself as being an idiot.
Abilities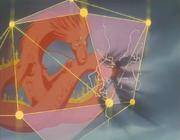 The nature of Madoka's flame is linear because to create a barrier he has to connect the fireballs, so four fireballs could produce a square barrier, three fireballs a triangular barrier, but two fireballs can't form a barrier because two points can't form a plane. By eliminating a fireball from the barrier the space of the barrier is reduced. He is a chubby ninja who speaks politely, but is rather sarcastic and vain. During his lifetime, his flame took the form of a tortoise.
Part in Story
SODOM arc
When Recca Hanabishi summons the Seven Flame Dragons to summon Resshin, Madoka appears and gives Recca his support.
Gallery