Kuchibashimaru
Information
Kanji/Kana
嘴丸
Rōmaji
Sex
Male
Height
Weight
Age
Status
Alive
Birthday
Blood Type
Zodiac Sign
Hair
Blonde
Eyes
Madōgu
Kuchibashi-Ō
Family
Manga Debut
Chapter 39
Anime Debut
Episode 14
Affiliation
Kurei Mori, Uruha
Seiyu
Wataru Takagi
Actor

Kuchibashimaru (嘴丸) is a madōgu wielder and a member of Triumvirate (The Three Ravens in the anime).
Appearance
Kuchibashimaru appears as a light skin male with blonde hair that is styled similar to that of rocker. He also wears a protective guard over his mouth. Kuchibashimaru's eyes are blue in color, and he has six red talon-like marks on his face (three on each side). His outfit consists of a red jumpsuit with a brown straight jacket on top.
Personality
Kuchibashimaru is very loyal to Kurei as he wanted to get revenge on Team Hokage for burning down their master's mansion. He appears to be rather confident in his abilities and when his partner Hanemaru injured his own self inside Kagerō's home, he makes an excuse saying they can't find in confine places.
Abilities
Madōgu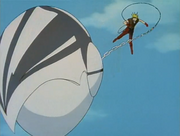 Kuchibashi-Ō
(嘴王, Beak King): Kuchibashimaru's madōgu allowed him to use his weapon as an extension of his body, allowing him to grab and throw his opponents. He could also use punch a person with the Kuchibashi-Ō, however because he had not truly mastered his madōgu, Kuchibashimaru was unable to utilize its full power. His madōgu's primary stone has the kanji for "Beak" (嘴, Kuchibashi) written on it and is located at the opposite end of the chain, making it resemble a kusarigama.